We're totally excited to be welcoming Mountain Hardware athlete Kevin Mahoney back to the Guest Guide pool this year! Kevin is one of the most prolific climbers in the Mount Washington Valley, an awesome guy and a great guide! Kevin grew up in the area and has since taken his climbing all over the world. Kevin has authored many first ascents including climbs all over New Hampshire, Alaska, Ecuador and France! Not only is he a great climber, but he's an amazing educator. Kevin taught as a NOLS instructor for six years. His experience as a teacher combined with that of being a guide allows him the opportunity to help his clients actually learn how to be competent in the mountains while having exciting adventures at the same time!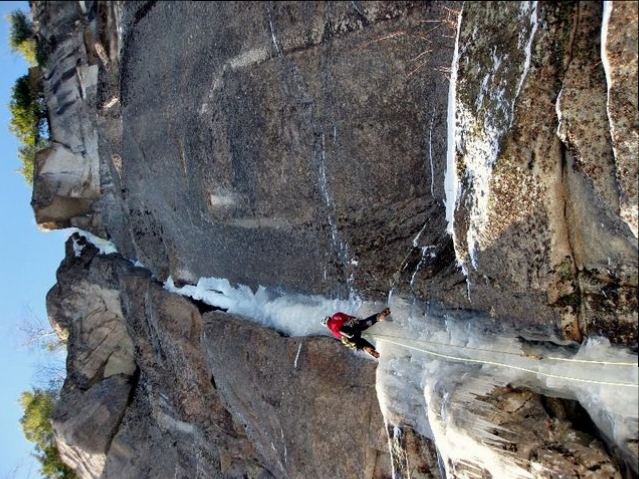 Kevin climbing Repentance at Cathedral Ledge, New Hampshire
This year Kevin will be guiding both Friday and Saturday. He's definitely guy you want to be out there will. Both of his clinics are for the folks who are ready to get on that steeper stuff out there. He'll help you take your steep ice climbing skills to the next level. In his clinics you'll get the chance to climb the many different forms of ice, including mushrooms, bulges, candlesticks, pillars and flows. Kevin will teach you to move smooth and confident through all the different obstacles, all without getting pumped! By the end of the day with him you'll be able to move efficiently through many different types of terrain and even incorporate some of the same moves from rock climbing into your time on ice.
Kevin is specifically guiding the following clinics:
Don't wait to sign up because these clinics are sure to fill up fast! Call IMCS at (603) 356- 7064.